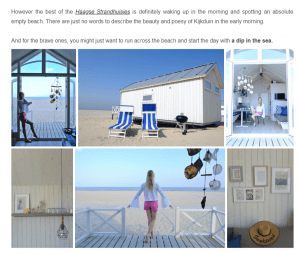 De Luxemburgse Paulina on the Road, bekend van haar blogs over haar ecofriendly outdoor avonturen, maakte een top 15 van Den Haag. Wat je zeker niet mag missen! En tussen alle activiteiten door, deed ze even helemaal niets bij de HaagseStrandhuisjes. Just be there.
Een blije gast met een mooi verhaal!
" If you want to experience the virgin beauty and pristine condition of Kijkduin in a very unique way, I strongly recommend to have a look at the charming beach huts of the Haagse Strandhuisjes. The cabins can be rented for 1 weekend or more and can host up to 5 people. They come already equipped with all the material to spend a perfect weekend on the beach: a barbecue, sun loungers, beach toys…
I particularly liked their tasteful interior design with soft maritime colors and several shell details. Also from the outside they perfectly merge with the pastel colored surroundings of the dunes. Even though the beach houses are fairly isolated, perfect Wifi will help you to stay connected to the world.
However the best of the Haagse Strandhuisjes is definitely waking up in the morning and spotting an absolute empty beach. There are just no words to describe the beauty and poesy of Kijkduin in the early morning."
Leuk dat je er was, Paulina on the Road!